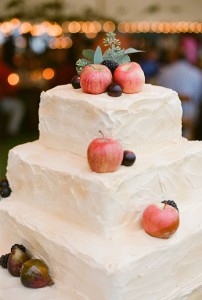 If there is one fruit that symbolizes fall it's the apple.
Living in the Midwest, no fall season is complete without a visit to the apple orchard where you buy a bushel of apples, some apple cider, and maybe an apple pie or two.
And so when I found this wedding cake that uses apples as a decoration I just had to share it!
This is the perfect fall cake with the apples, figs, dark berries, and succulents as the only decorations.
I really love the simplicity of the square tiers and the icing that looks less-than-perfect. It gives the cake a very homemade look and  keeps it from being too fussy.
It would be the ideal centerpiece at your late fall wedding, especially if the wedding had a rustic vibe.
We found this wedding cake here.