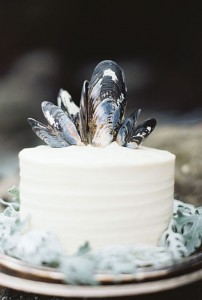 Baby it's cold outside!
So, let's dream about a destination wedding in a warm, tropical, and beach-y location. And at this wedding your theme is seashells.
Lots and lots of seashells.
And this gorgeous one-tier cake is your beach-inspired, seashell-topped wedding cake.
I love this cake. Maybe it's because I love the beach and collecting shells. Or maybe it's because it reminds me of summer. Either way, I think this would be a lovely cake at your beach wedding.
The one-tier cake is a trend I'm quite fond of – especially if you're planning on a small reception or maybe you just want a special cake for the bride and groom.
And topped with seashells? Well that makes it perfect. You could find some wonderful shells on the beach for your cake or you could leave it up to the baker.
You can find this seashell cake here. It was created by Yam & Bean.