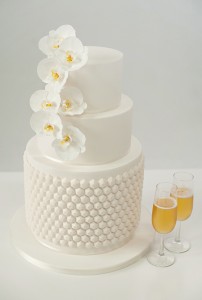 As I look outside the window today it's a sea of white. A fresh layer of snow covers the ground which (of course) made me start thinking about the traditional all white wedding cake.
I do love all the non-traditional wedding cakes I feature here – the bright colored cakes, the black fondant cakes, the whimsical cakes. But in the end, nothing beats that all-white wedding cake in all its elegance and charm.
What I love about this wedding cake is that it's a modern take on tradition. The hexagon gems that adorn the bottom tiers of the cake give it a very modern vibe, and the sleek white icing plays into that.
And there's no need to worry about the orchids wilting on this cake as they're made from sugar! Of course if orchids aren't your cup of tea, you could always choose another type of flower to showcase on the cake.
You can find this modern wedding cake here.