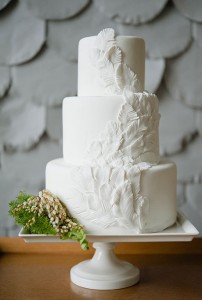 As I sit here watching the snow fall outside, the fresh white powder outside inspired me to find an all-white wedding cake to feature today.
This cake is so elegant in an understated way and it would be absolutely perfect any time of year.
The smooth white fondant gives the cake a modern vibe and it could have been embellished with just about anything. The addition of white fondant feathers takes the cake to a whole new level.
Feathers aren't something you expect to see on a wedding cake but they're a welcome addition to this perfectly lovely cake.
It would be ideal at a winter wedding but imagine the feather with a touch of blush color for spring or summer.
The cake was created by Sweet Bakeshop. You can find this white feather cake here.