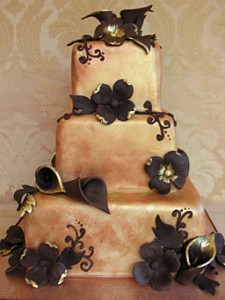 With Halloween only two days away I was searching for a wedding cake that would be the perfect centerpiece for an holiday wedding.
I think this orange and dark brown cake is the one.
After all, you can't go wrong with a cake that features the best Halloween colors, right?
I love that the orange glow of this cake is more of a golden orange hue, rather than a pumpkin orange. Because really, a bright orange cake might scare your guests. And instead of orange-and-black this cake has dark chocolate brown flowers – that are actually made from chocolate!
Who needs trick-or-treating when you can eat chocolate flowers off a wedding cake?
This cake would be absolutely perfect at your late fall celebration.
We found this not-so-scary cake here. It was created by Sedona Cakes.