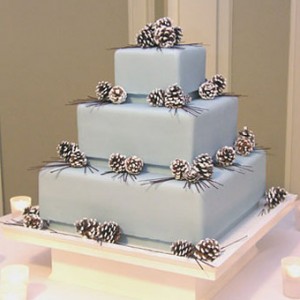 I heard on the news yesterday that all 50 states had a below freezing temperature this week, so it seems like winter is early and here to stay.
Which got me thinking – maybe it's time to feature a winter-themed wedding cake.
And I found this beauty – all square tiers, and icy blue frosting. It seems like a perfect winter cake – and it could be inspired by Queen Elsa from Frozen, since that movie is never going away!
I love cakes with square tiers – they just seem a bit more elegant than a round cake. And the icy blue frosting is so cool and would be so pretty at a winter wedding. It's like an ice castle.
The pine cones add a nice rustic touch to the cake – especially with their white tips.
I found this cake here. It was created by Gateaux Inc.